Discover Newcastle's best suburbs, first home buyer advice, and much more with
Arnold Property.
Accurate, obligation-free rental appraisals based on 30 years of local experience.
Choosing the right Property Manager in Newcastle
Enjoy the benefits of property managers that care about you and your investment.
We're selective about your tenants
Having the right tenant is important to you and us.
When it come to property management in Newcastle we've seen it all with our clients tenants. There's a fine balance to the tenant selection process. If you are too strict, then you run the risk of your property being left vacant when it could be earning an income. If you aren't selective enough, then it may end up costing you in the long run with rental arrears, property damage and broken leases.
As property managers, our selection process aligns with the John West slogan – "it's the tenants that Arnold Property rejects, that makes us the best". We thoroughly screen and cross check potential tenants against our own databases, as well as TICA and RP Data information.
We have streamlined our processes so that there are no unnecessary delays. We also check references, employment and financial security, and then we furnish you with all the information to make the right decision.
It also helps that we have been in the business for over 30 years, we are local, and we know our tenants better than anyone!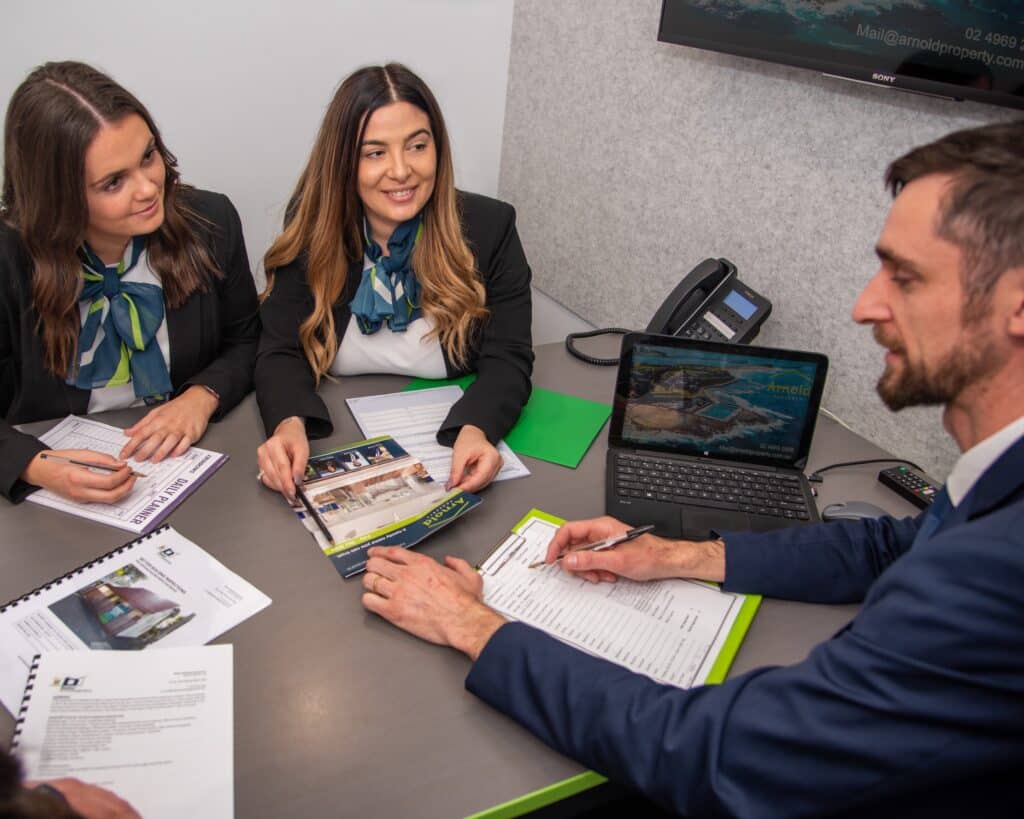 Our clients are our biggest advocates
We've helped customers achieve what others couldn't, read for yourself.
Arnold Property are the best in the business. They are so knowledgeable, always offer polite and friendly customer service and provide great attention to detail in everything they do. My wife and I would happily recommend Arnold Property to anyone who is considering renting, buying or selling.
New lambton Heights
Issac
Having spent so much money, time and effort renovating our lovely little house, we were quite nervous handing it over to others to manage. 2½ years later, I can safely say we are very happy. The professionalism, efficiency and friendliness of the whole team at Arnold are second to none.
Islington
Michelle
My wife and I have been dealing with Arnold Property for the past year and we cannot fault their property management skills. Michael Arnold managed our Newcastle home whilst we were living overseas and, despite a large time difference, the communication has been excellent.
Georgetown
Michael
How to choose the right Property Manager
Finding a competent Property Manager is a matter of knowing the right questions to ask. Being in a 'small town' like Newcastle, you are bound to have friends recommend agencies but it helps to do your homework as well. You're on the lookout for a good partner who will look after your needs, attend to the small details and generally have your best interests at heart. What you don't want is indifference, unreturned calls and problems swept under the carpet.

So how do you find that special person – a good Property Manager?

Landlords should interview at least three property managers before making a choice – and fees shouldn't be the main criteria, 'pay peanuts get monkeys' as they say. You want the best one, not the cheapest one. Make your selection based on who you think is going to give the best service. If you don't have a good impression after speaking with them, don't go with them just because they're cheaper. For an investment, usually of at least half a million dollars, you should be picking the best person who you feel is the most professional agent to manage the property.
Recent property rentals
Here's just a few of the suburbs in Newcastle where we manage properties
Changing Newcastle property management
Like all relationships, the one between a landlord and manager doesn't always run smoothly – and sometimes the landlord wants "out".

Many landlords are under the false impression that when they sign a 12 month tenancy agreement with a tenant that they have also signed an Exclusive Management Agreement. As a result many landlords wait until the end of the 12 months to change managers when in fact they can change as soon and the Exclusive Management Agreement has expired. The standard agreement is a 30, 60 or 90 day authority but 30 days is probably the most common. Once this Exclusive Management Agreement designed to cover the letting period has expired – the process of changing managers is simple.

All you have to do is sign an authority with a new agent who will inform the previous agent that they have taken over management. The new agent will send over a standard fax to the previous agent advising that they have taken over the management. On behalf of the landlord and to have the file ready for collection within 48 hours. This notice in writing voids the previous authority. This procedure avoids awkward conversations between The Landlord and former Property Manager.
Partners and Associations